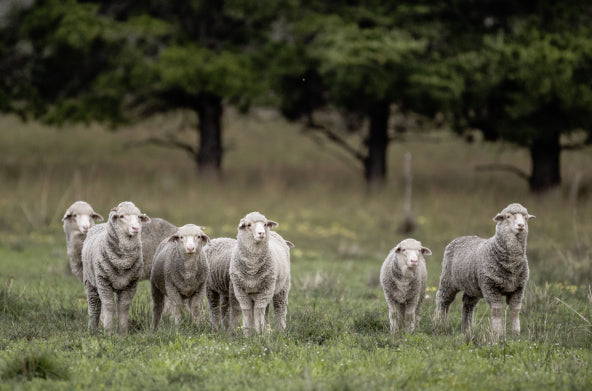 about our wool
We source Woolmark® certified merino directly from the McBride family farm located on the coastline of SE Australia.

As a family-run organization, the McBrides are creating a sustainable company for generations to come. The farm is specifically focused on improving energy efficiencies, land conservation, and biodiversity.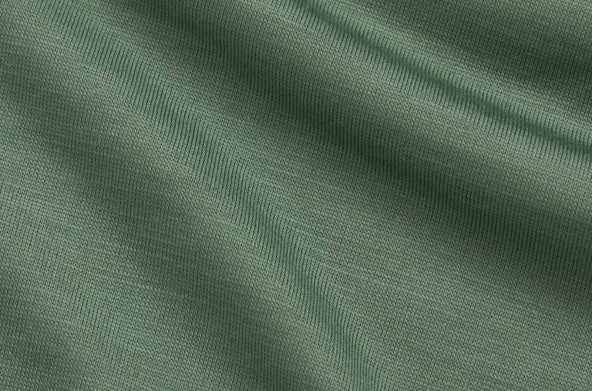 signature jersey
A lightweight knit fabric that is soft yet durable. Comfortable for year-round wear.

78% Ultrasoft Merino Wool
22% Nylon
160 GSM
17.5 Micron Wool
I bought this one in every color
My first Wool& dress was the Maggie in 2021 and I wear it all the time. As business travel started to pick back up, I ordered a few others which makes packing and deciding what to wear so easy. The Rowena, one with a belt, and the Renata. I love them all but Renata is the dress I could wear everywhere and every day and after six months it became clear I needed every color. I've been asked where I got it from strangers in the airport, like so many others. The fabric does help regulate temperature and it's been comfortable in a variety of weather conditions.
Very comfortable dress
Got both blue and purple. I still struggle with keeping it odor free, but I'm pretty intense. It's very comfortable. I wish they had full 100% wool, but I've been enjoying having no need to think about what to wear.
Would still love a maxi dress in this style.
Weight:
Heavy now, currently losing 176/ 40-33-46
Dressy and Comfortable!
Y'all - this dress was purchased with the mindset of "maybe but probably not". I have ordered SOOOO many Wool& dresses and while they are fabulous fit, quality, fabric, etc. I am the absolute worst at making decisions about stuff like this. This one I bought in marine blue and when I put it on I just KNEW this was a keeper.
FIT - I am VERY, VERY pear shaped, from my days I was a size 4 to now at a 14 and every size in between solid pear. I love the fit and flare of this dress. I just skims the curves. The waist hits me just right, the length is perfect (no hemming, WHAT??!!) I know that these are very personal things to each body, but when I have read the 100 million (ha,ha) reviews before purchasing a dress I look for "pear shaped" and 5'4". Those are my biggest clues to fit. So I wanted to share that with you. Will this dress work for a 5'11" apple? I have no idea.
COLOR - This dress has a rich blue color. I held it next to my washed navy Amalya and it is lighter and brighter, but not too bright, very office professional looking.
STYLE - I am going to jazz it up with some funky necklaces for dinners, and dress her up with a blazer and pearls for business. The sleeves give her a step up from some of the other dresses.
FABRIC - Signature fabric, very light weight and great for Midwest FLORIDA!! Think hot and humid 10.5 months a year. I would like a heavier fabric in a dressier dress usually but this works because I usually melt in those dresses, think outside funeral or graduation in July here 96 degrees and 99% humidity.
COMPARSION - Amalya - I have an XL. I did a 30 day challenge in her.
Sierra - Medium regular length
Brooklyn - Medium Long
Cora - She is lovely. Size L.
Summer - Size M. I may shorten the straps if I get ambitious. Definitely does not need to be done but could be done for a nicer fit.
Annika Robe - Size L. Fits perfectly
Natalia Wrap - Size Large
Isabelle - Large
Sofia - Large
Rosso - Large
Axis - Large
Lastly reviews are reviews. You must buy and try for your body and your comfort. They are a great starting point. Wool& has such a generous return and trade policy that they make it easy to try and see. Thank you Wool& you are my new favorite clothing store.
Lightweight
The dress was a lot lighter than I expected, more like a thin tee shirt weight and you can see through one layer of fabric in bright light... Also panty lines can show.
A medium fits pretty well on my rectangular/wider hips frame.
The fabric has a nice smooth feel and folds down quite small- great for travel! The black color seemed to do pretty well, not attracting lint & fuzzies.
Style and cut is pleasant, neckline is a slight boatneck, but doesn't slide off shoulders. The sleeves are fun & not too flouncy! Length hits me several inches below knee.
Have worn it twice without washing, just airing it, and no odors! Looking forward to how it will perform in summertime.
Super flattering and Soft
I was worried about it being wool but it feels like a t-shirt but looks dressy
see it styled by our community
Share your photo here or tag us on Instagram @wool.and to be featured.
wearing merino comes with advantages