leggings at a glance
We make superior leggings, perfect for any occasion.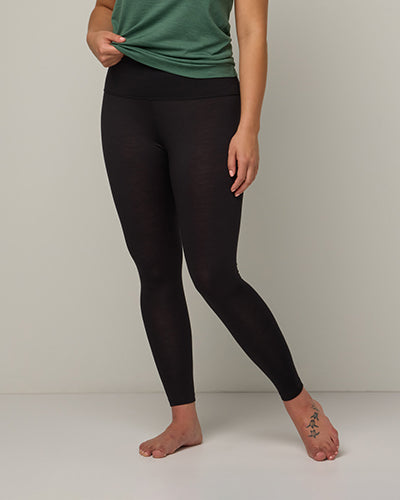 Lightweight
180 gsm
For layering—great under dresses and tunics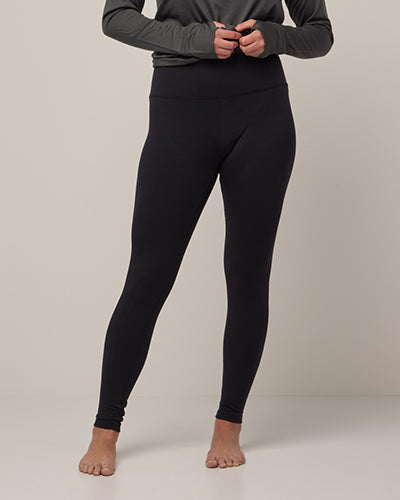 Midweight
300 gsm
For everyday wear—stretchy and versatile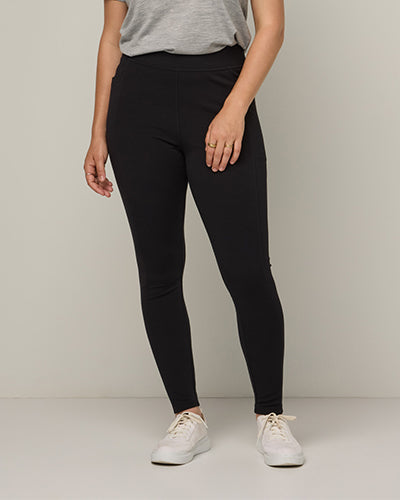 Heavyweight
345 gsm
For extra warmth—in fully opaque ponte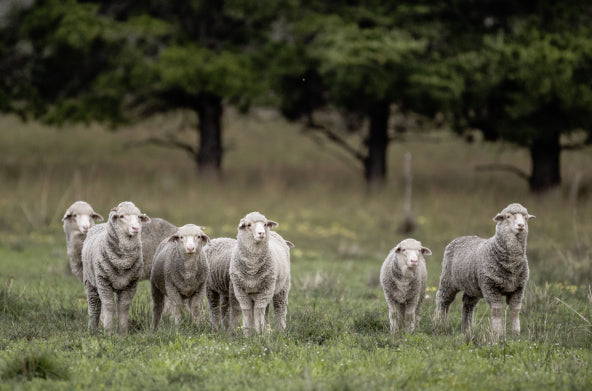 about our wool
We source Woolmark® certified merino directly from the McBride family farm located on the coastline of SE Australia.

As a family-run organization, the McBrides are creating a sustainable company for generations to come. The farm is specifically focused on improving energy efficiencies, land conservation, and biodiversity.
midweight stretch jersey
Our durable midweight stretch jersey moves easily with your body, retains its shape, and resists pilling.

68% Ultrasoft Merino Wool
22% Nylon
10% Spandex
300 GSM
17.5 Micron Wool
Mystery Sale Win
I got the axis cropped leggings in the mystery sale. I cannot see any problems with my leggings, so I don't know why it was a mystery sale item. I can say that they look and feel great. I am on the border of the sizing and chose to size down for leggings because I thought that I could handle leggings that were a little tight but didn't want baggy leggings (I have some from another company that are a little too loose to look nice under dresses without boots to hide the loose parts). I think that next time I think about getting leggings (this was my first pair from wool&), I would go with the looser size because it seems like the fit of wool& leggings is pretty form fitting and not loose. Having said that, I still really like my "sized down" pair and will really enjoy wearing them when our weather gets cooler. I've worn them for a few early morning walks, but we are still regularly in the upper 90s in Central CA, so I don't wear them for long yet. :)
Crops
I really love how comfortable these pants are but was disappointed there were no side pockets as I thought there were. I also feel like they were looser than I thought they would be so maybe I would go a size down next time- if some with pockets become available
Needs real pockets
The quality of fabric is good, the waistband feels comfortable. I will keep these, but generally I do not buy pants that do not have useful pockets. I think it is sexist to not build pockets into women's pants. There is a waistband pocket, which is not useful or comfortable or easy to access, and I don't want to carry my phone against my ovaries. Most women wear leggings now as normal pants, and not having pockets assumes that all women carry a purse or bag, which btw is terrible for the physical health of your body, impacting posture, neck, back and hips at least. Our arms are meant to naturally swing as we walk, carrying a purse or backpack hinders that motion. The only company that I've found to have decent pockets in leggings is Woolx, their leggings have 2 deep wonderfully useful pockets on each side, I've worn the leggings I bought from them so much that they are in shreds and I hope that you'll look into that style and build better pockets in the future.
Thank you for your review and feedback on these leggings. We are sorry to hear these were not what you hoped and appreciate the perspective. We have a few other leggings that do include pockets, if you are interested in checking those out! https://wooland.com/collections/leggings
Love these!
I love wearing these under dresses or for yoga. They are incredibly comfortable and opaque enough to wear for yoga. So much better than my non-wool leggings.
I want to live in these
While I initially balked at the price for a pair of leggings, I went ahead and bought them as I am trying to transition to a more sustainable wardrobe. I am glad I did. I do not want to take these off. I love how they feel compared to the normal synthetic fabric of leggings. I can't wait until the black is in stock in my size.
see it styled by our community
Share your photo here or tag us on Instagram @wool.and to be featured.
wearing merino comes with advantages