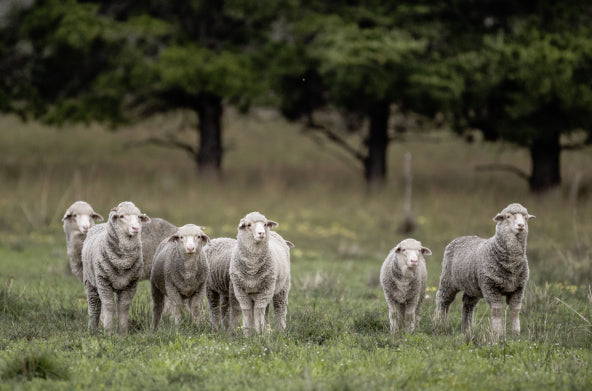 about our wool
We source Woolmark® certified merino directly from the McBride family farm located on the coastline of SE Australia.

As a family-run organization, the McBrides are creating a sustainable company for generations to come. The farm is specifically focused on improving energy efficiencies, land conservation, and biodiversity.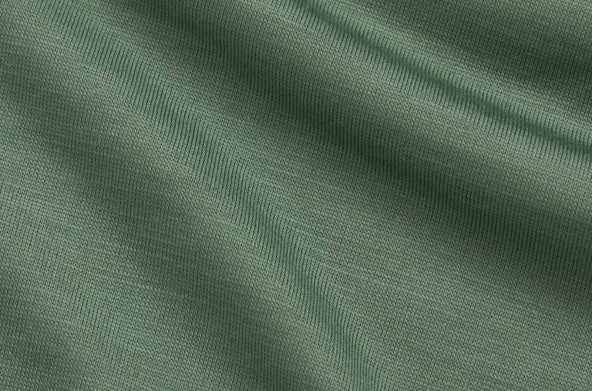 signature jersey
A lightweight knit fabric that is soft yet durable. Comfortable for year-round wear.

78% Ultrasoft Merino Wool
22% Nylon
160 GSM
17.5 Micron Wool
Just what I needed
I'm 12 years into menopause and still dealing with hot flashes (although they're more like waves than flashes) and they're particularly disruptive when I'm trying to sleep. Since finding Wool& clothing has been such a breakthrough in dealing with them during the day, I bought this to wear as a night gown hoping it'd help alleviate some of the sleep deprivation. What a life changer! I still have the heat waves but not as many, not as often, my body seems to be able to regulate its temperature much more effectively and they're over much more quickly.
I didn't want something too loose otherwise it'd just get all wound up around me so I ordered the L rather than the XL I'd have gotten for wearing as an actual dress but, honestly, after wearing it one night it stretched a bit and actually fits perfectly for a dress too. The only tiny downside to wearing this as a nightie is the pockets which can be a tad lumpy if laid on when they're not smoothed out but it really hasn't been a bother. I thought about just removing them and sewing up the seam but if I do choose to wear it as a dress I'm for sure gonna need those pockets so they're staying put. So, bottom line is, whether wearing as a night gown or as a dress I highly recommend the Cora as much as all of the other clothing I've gotten from Wool&. Just wish this company had been around a lot sooner!
Elegant & sporty
An instant favorite. I measure between XS & Small and went with small. I'm happy I did as the skirt is fuller and looks elegant tied. The neckline falls by the collarbone who h is very flattering.
I bought it first in black and now a red Xmas dress. ❤️
Great fit, great length
I really love my teal Cora! Wonderful sleeve length and overall length. The material drapes well - something I appreciate in a dress without inset shoulder seams. The belt makes it special! I am 40-33-42 and ordered a large, very pleased with the fit. I think a medium would be a little too snug, but an XL would dwarf me.
A Lovely, Versatile Dress
I am in the process of building a capsule wardrobe, and I can already tell this dress will be a staple. It is soft and comfortable, and versatile enough to dress up or down. With flip-flops or tennis shoes, it's a casual dress. With nice sandals or flats and a pretty necklace, it's appropriate for work. With heels and pearls, it's a semi-formal dress. I live in a warm climate, and Cora has been perfect for our very hot summers. With a sweater and leggings, it will be good for our mild winters. It's long enough to be comfortable for me as a person who is both modest and tall. My only challenge now is pacing myself before I buy it in every color!
A great transitional option
I got tired of wearing my Summer midi dress so often but still wanted something that worked for our September heat wave and the transition to fall, so I went for the Cora in wisteria. I fit pretty perfectly in my other two M dresses and continued that trend with great success. It's super soft, flattering with the belt, and has a very similar silhouette to the Summer except with sleeves. (I know myself now enough that the belted dresses are a must.) The seam down the back doesn't bother me at all since it's not a reversible dress. I'll be easily able to stick leggings/long johns under the dress in cooler weather and cardigans over top. The pockets are roomy, the little leg slits are a nice detail, and the sleeves are a great length and width (and could be reasonably covered by a short-sleeved button-down or blouse if you want to layer on top of the dress). Feels just as soft and lightweight as the Summer and the Rowena I also have, which also means the thinner material is a culprit for pantylines, but the fit is loose enough that it's not egregious. I'm 5'8" and the belted dress hits me just below the knee. The color is definitely more muted in indoor settings but sunshine and natural light bring out the purple!
see it styled by our community
Share your photo here or tag us on Instagram @wool.and to be featured.
wearing merino comes with advantages