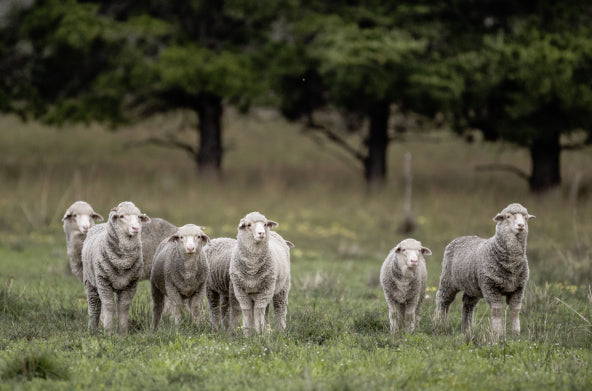 about our wool
We source Woolmark® certified merino directly from the McBride family farm located on the coastline of SE Australia.

As a family-run organization, the McBrides are creating a sustainable company for generations to come. The farm is specifically focused on improving energy efficiencies, land conservation, and biodiversity.
lightweight stretch jersey
A lightweight fabric with just the right amount of stretch, intended to be worn as an underlayer.

68% Ultrasoft Merino Wool
25% Nylon
7% Spandex
180 GSM
17.5 Micron

I probably could have gone with the Medium. Since I just got them, I have not worn them. Only tried them on and just now washed and hung to dry.
They seem nice and they will become part of my travel essentials.
We are sorry these didn't work out well for you but appreciate you giving them a try!
Love is an understatement
These are my second pair of Frankie's. I have been searching for YEARS for the perfect shorts to wear under dresses/skirts. I have tried literally every thing under the sun from Thigh Society (my go to before Frankie) to Bandlettes to spandex and there was always something not-quite-right about them all. But Frankie is perfection. I am in between a large and XL but wear a large in Axis and Frame Culottes but opted to size up for comfort on Frankie. So glad I did.
a nice under-layer, very comfy and cooling
I really like these shorts. I've mainly been wearing them in lieu of underwear and slip under Magggie, Sierra, and some cotton skirts and dresses. Or as workout shorts in the home. I don't really find the waist pocket useful (can't access in public without lifting up the dress/skirt awkwardly) but super comfy and cooling. I'm not sure how to define my "usual" size; in wool&, I wear a medium Maggie and a small Sierra. But in other brands I'm either a medium or a large. (Also: I recently bought a Natalia in medium and can't decide if a large might be better for me.) In snag tights, I wear a size C.
I don't love these as much as summit. They are less comfortable and fit as though they weren't cut for a body that has any curves.
Overall they are on par with other wool& items as far as construction and quality of materials. The color is a dark rust. I was hoping for a light chocolate that's would look like a skin tone. They are serviceable.
see it styled by our community
Share your photo here or tag us on Instagram @wool.and to be featured.
wearing merino comes with advantages