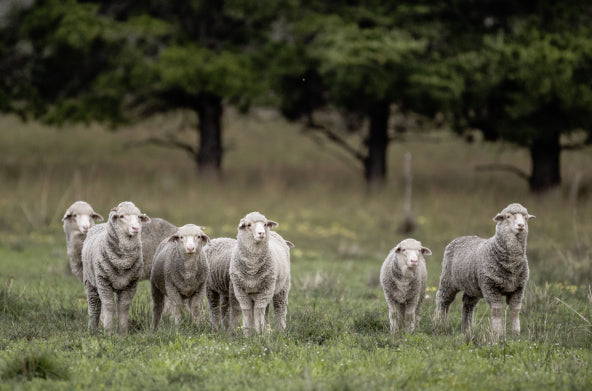 about our wool
We source Woolmark® certified merino directly from the McBride family farm located on the coastline of SE Australia.

As a family-run organization, the McBrides are creating a sustainable company for generations to come. The farm is specifically focused on improving energy efficiencies, land conservation, and biodiversity.
lightweight stretch jersey
A lightweight fabric with just the right amount of stretch, intended to be worn as an underlayer.

68% Ultrasoft Merino Wool
25% Nylon
7% Spandex
180 GSM
17.5 Micron

A wardrobe staple for me!
I get a lot of use of my Frankie shorts, mainly in summer. I'm plus sized so I wear them as slip shorts under dresses, with regular undies because I wear them so much and I don't want to wash as often, unless I get real sweaty.
In the winter I wear them over tights under my dresses, which still works as kind of a smoothing garment (I wish the seam on the waistband was not so prominent), but also makes my tights a lot more comfortable and they stay up better - not to mention prolonging the life of the tights since they don't rub together.
I sized down because the fabric is so stretchy, but I think I'm an anomaly. I have black, and I would not wear them as regular shorts because they are a bit sheer. But that makes them thin and great as an under layer!
Slightly tight on the bottom but should be good
So comfy and no static build up under my dress!
Love them
I planned on wearing these as underwear under my slimmer fitting dresses. I found they're a little tight to pull up over my hips but once on, they fit beautifully and feel very comfortable. I got a vintage rose pair to wear under my lighter dresses and will probably get another pair in black down the track. I love that they don't dig into my legs or ride up when I'm wearing them. I think the fit is a bit smoother for the Frankie's than the Summit shorts.
I sized up because of the reviews, and I'm really glad I did. The waist is quite tight and not stretchy, but since it falls at my skinniest natural waist, it seems like it will be OK. They are much lighter weight fabric than the Terra leggings, but I think they'll be good under dresses or skirts in the summer.
see it styled by our community
Share your photo here or tag us on Instagram @wool.and to be featured.
wearing merino comes with advantages