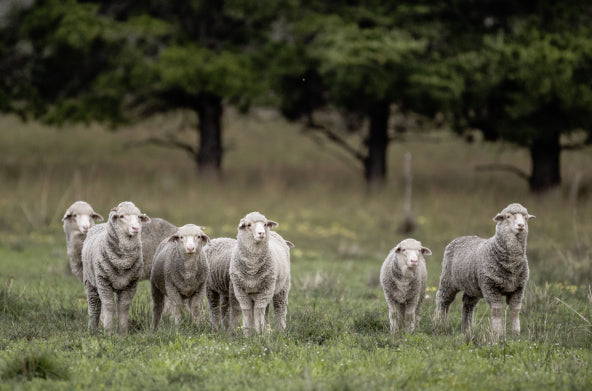 about our wool
We source Woolmark® certified merino directly from the McBride family farm located on the coastline of SE Australia.

As a family-run organization, the McBrides are creating a sustainable company for generations to come. The farm is specifically focused on improving energy efficiencies, land conservation, and biodiversity.
midweight stretch jersey
A performance fabric that is breathable, dries quickly, and has plenty of stretch for full range of motion.

55% Ultrasoft Merino Wool
41% Elasterell-p
4% Spandex
285 GSM
18.9 Micron Wool
The PERFECT Pants
I was so excited to receive these a week ago and I put them straight to the test! I put them on in the morning and later that day our daughter went into labor, and I was in the room with her while she labored and delivered just after midnight. I had my phone in the side pocket ready for the first photos of the family. Whether I was sitting, standing, or lying down, I was completely comfortable. I drove home at 3am, and fell straight into bed without changing. When I got up the next morning, I realized that I had been wearing these pants for over 24 hours and they were the most comfortable pants I could have imagined. I will be getting rid of almost every other pair of casual pants I own. These are by far the best pants purchase I have ever made. Would love to see them in gray and a chocolate color!
Finally!! Please make more of these for me. I don't like the skinny leggings look, and these look and feel amazing...with pockets too. I'm just bummed that they are sold out in my size when I went back to purchase more!!
Just what I needed
These leggings fill a hole in my wardrobe. It's nice to have a pair of leggings that is a bit dressier so maybe I can go from Pilates straight to breakfast or the grocery store. The fit is snug and comfortable. Since I'm short I had to hem them. I have a coverstitch sewing machine so making this adjustment isn't a problem for me.
Be Mindful of Inseam Length
Overall I love the fabric weight and the straight cut but at 5'2", these are a little too long for me and require hemming. I wish the pant-like leggings were offered in petite, regular, and tall lengths to accommodate all body sizes without needing alterations.
Loving these. They definitely are leggings, but the straight leg makes them less of a workout leggings, to me.
see it styled by our community
Share your photo here or tag us on Instagram @wool.and to be featured.
wearing merino comes with advantages