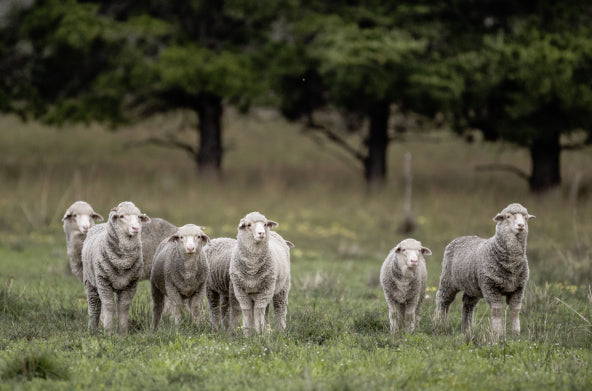 about our wool
We source Woolmark® certified merino directly from the McBride family farm located on the coastline of SE Australia.

As a family-run organization, the McBrides are creating a sustainable company for generations to come. The farm is specifically focused on improving energy efficiencies, land conservation, and biodiversity.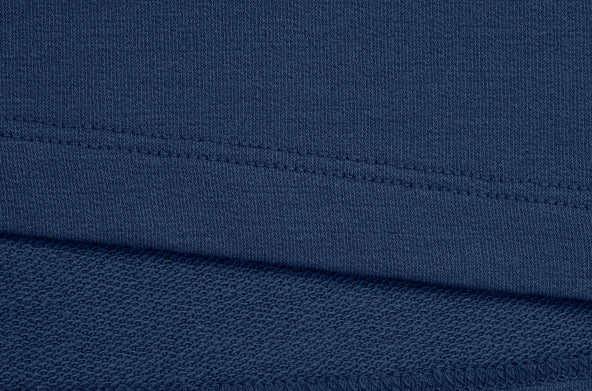 french terry
A lofty, beautiful knit fabric with built in stretch.

75% Merino Wool
22% Nylon
3% Spandex
235 GSM
17.5 Micron Wool
Sleeper hit
I have several wool& pieces and I love them all, but this one is my favorite. This sweatshirt is the sleeper hit. It is so flattering, and acts more like a sweater than a sweatshirt. It isn't cut like a regular sweatshirt where it is kinda long and the ribbing grips around your hips, but it's a shorter length (though not cropped) and the bottom hangs, it doesn't grip. I find myself reaching for it all the time, and I wear it for fancier casual evens with cute jeans, boots and jewelry and I wear it for lounging at home with equal enjoyment. I bought an L instead of my usual M.
I like it but it could use some refining
Overall, I really like this sweatshirt. It's light but warm. The neck is weirdly loose for a crew neck. I like a little more elastic at the waist and the cuffs, too. Please make it in more earth tones.
LOVE ❤️ Aspen Sweatshirt Most comfortable sweatshirt EVER!!
Ok I got the Sweatshirt and then thought get the matching joggers would be a good idea!! best decision Ever!' These are the most comfortable temperature regulating warm but not heavy it just is like a gentle hug. Some sweatshirts can be bulky and heavy this is like wearing cashmere and you feel like elegant in the set, I can't really explain how I float when I wear this set!! I now want ALL the Colors!! Same great Fabric as Sierra, Eliza, Everett, and Evelyn. I highly recommend. It is not a tight fit more boxy but I like it!! You can tuck into joggers or keep out. I got a small.
Fabric is great, Fit not so much
I almost returned this. I love the fabric on this black sweatshirt. I love the raglan sleeves. It washes up beautifully. But I considered returning it because, to me, the fit wasn't all that attractive. It's very boxy and I find the neckline weird--it's not crew and it's not scoop. The neckline only looks good, in my opinion, if there's a collar underneath. The photos you see online are pretty much what it looks like on me. I had hoped that it would be a bit more to my style and that the online photos at the website were off a bit. Nevertheless, I realized that it would become a staple in my everyday wardrobe, so I kept it. I may sell it later on the BST if I find something I like better. UPDATE: I did find something I like better that was a more attractive fit. It was the Wool & Prince Men's Small waffle sweatshirt in Forest Night! I look more girly in it than in the wool& women's Aspen. And the price is better at Wool & Prince too(?). Now if only it came in black, I'd be set. I love the waffle fabric. I am holding on to the black Aspen for now because, like I said, it's a workhorse. Note to design team: make the Aspen more girly in fit. Fix the neckline. Make it in waffle fabric. I'd buy it in multiple colors if so.
Thank you so much for your review and valuable feedback! We appreciate you sharing your experience and will be sure our design team sees this.
A Wardrobe Staple
I love the soft feel and weight of the gray aspen sweatshirt. It can be layered over a tee or collared shirt or under a jacket. Very, very luxurious.
see it styled by our community
Share your photo here or tag us on Instagram @wool.and to be featured.
wearing merino comes with advantages