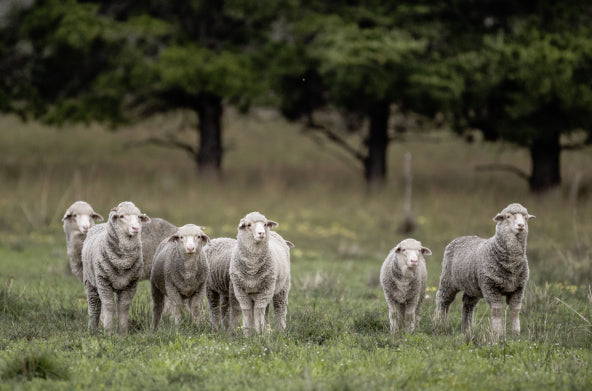 about our wool
We source Woolmark® certified merino directly from the McBride family farm located on the coastline of SE Australia.

As a family-run organization, the McBrides are creating a sustainable company for generations to come. The farm is specifically focused on improving energy efficiencies, land conservation, and biodiversity.
midweight stretch jersey
A performance fabric that is breathable, dries quickly, and has plenty of stretch for full range of motion.

55% Ultrasoft Merino Wool
41% Elasterell-p
4% Spandex
285 GSM
18.9 Micron Wool
There's something magical about wool leggings…
My axis leggings kept me cozy and dry during a rainy weekend in NYC. From popping in and out of shops and cool theaters, to jumping over puddles, I was warm and comfortable. I normally wear a medium in bottoms, and a medium in these fit me well. I ended up buying them in multiple colors to mix and match with my wool& dresses.
Leggings to Live In
These leggings are rubbish! All I did was wear them nearly every day for 2 years and now they're starting to get threadbare in the knees. Now I have to buy another pair and turn these into pajama leggings. On top of that, I wanted to wear wool leggings on a 90*F summer day so I could feel all sweaty and uncomfortable, but my legs felt cooler than wearing shorts. So I tried the opposite and wore them on a -30*F day with 30mph winds so that my legs would go numb, but no, I felt like I might be wearing thick pants. My husband said I couldn't buy more leggings while I already had a pair, so I decided to gain 30lbs to justify buying new ones. Wouldn't you know it, they had the audacity to still fit - comfortably, even. The wide waist band has a slight flattening effect without being uncomfortably compressive and totally covers my belly so I don't get that muffin top I'd been hoping for. I just can't win with these stupid leggings! I can't even tell with the sniff-test if I've worn them for more than 30 minutes, like I can with all my other leggings. I think elves must sneak in and wash them every night, because I know I haven't washed them in over a month and they still don't smell bad. So now I have an elf problem on top of all the issues with these leggings. You can buy a pair if you want, but I wouldn't recommend it. I would recommend you buy two pairs for the color options.
Great leggings
I bought these leggings along with a black pair. I got these for travel. I kept the black ones and only returned the navy because they were too close in color to the black. Otherwise, they were perfect.
The Axis leggings are lightweight and comfortable.
Favorite leggings
Just purchased a third pair since I have worn them in the daytime under the Fiona dress and paired with a long sleeve shirt (Henley or Sloan) to sleep, alternating sets. I could get away with two but I wear them so often and I like the quality.
see it styled by our community
Share your photo here or tag us on Instagram @wool.and to be featured.
wearing merino comes with advantages