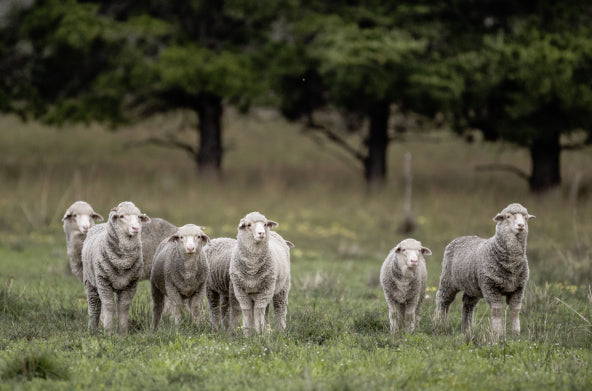 about our wool
We source Woolmark® certified merino directly from the McBride family farm located on the coastline of SE Australia.

As a family-run organization, the McBrides are creating a sustainable company for generations to come. The farm is specifically focused on improving energy efficiencies, land conservation, and biodiversity.
merino wool linen woven chambray
Linen paired with wool gives the fabric a beautiful slubby texture and creates an airy, light feel.

76% Ultrasoft Merino Wool
24% Linen
140 GSM
18.5 Micron Wool
Didn't survive the 100-day challenge very well
EDIT: I emailed Wool& about this, and they sent me a new one to replace it! :)
I completed the 100-day challenge with this tunic. It was nice and lightweight without being see-through, but the fabric didn't hold up. There is a lot of wear under the arms which is pretty disappointing! I would have hoped that this would last beyond that challenge because I want my Wool& purchases to be a long-term investment.
Need more colors!
I brought two on an overseas trip-they are thin and stylish. We only brought backpacks so I needed clothes that could be worn a few times in different ways and weren't bulky. I loved these. It can be layered, worn with or without the belt, and open with a shirt under it. I wore each three times and they still don't smell. I will buy more if nee colors come out….hint hint… black and grey
A FUN 100 day challenge dress
I mulled over what to pick for my challenge for months. I've worn dresses. I know what to do with dresses. I'd never worn a tunic or anything even remotely close to Laurel. I decided to try her out for my 100-day challenge. Laurel and I had SO much fun during our 100 days together, and I've worn her often since it was over. It was a delight to try styling something totally unlike anything I've worn before. As a work-from-home homeschool mom, I often spend all day in sweats or yoga pants. Getting up every morning to put on Laurel and style her changed my attitude and my energy levels. Since ending the challenge, I've gotten myself dressed in something that makes me feel pretty just about every day. It really does impact your mindset. I love this tunic and plan to get Florence soon!
Versatile Shirt
I like shirt but I don't love the sleeve/shoulder. It is very versatile. The fabric feels light & a little slubby. It is a bit stiff but would likely soften with wash. I was hoping I could pull this off as a short dress but the hem curves upward on the hip making it far too short.
see it styled by our community
Share your photo here or tag us on Instagram @wool.and to be featured.
wearing merino comes with advantages