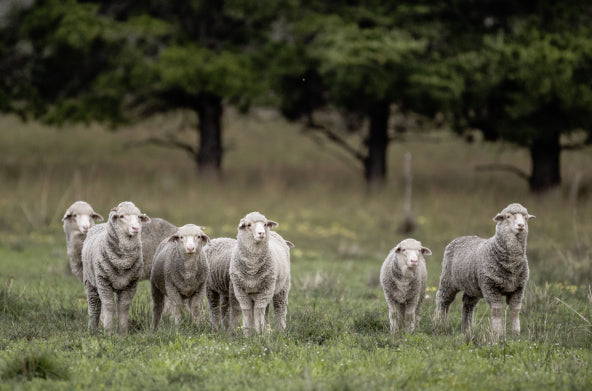 about our wool
We source Woolmark® certified merino directly from the McBride family farm located on the coastline of SE Australia.

As a family-run organization, the McBrides are creating a sustainable company for generations to come. The farm is specifically focused on improving energy efficiencies, land conservation, and biodiversity.
merino wool linen woven chambray
Linen paired with wool gives the fabric a beautiful slubby texture and creates an airy, light feel.

76% Ultrasoft Merino Wool
24% Linen
140 GSM
18.5 Micron Wool
True to size. I was disappointed that I can see the outline of the pockets through the shirt because the fabric is so thin, but it's still a high quality top. I'm sure I'll wear it a ton!
Love Florence!
I finally got a chance to spend a day with Florence, and she is marvelous. So comfortable and flattering. She's my new favorite. Shhh. Don't tell the others!
Florence
Linen and wool blend top that looks like a denim shirt with pockets. Count me in. This too is a winner, love it, especially as topper for dresses without pockets. No ironing needed after washing, yea!
Just what I needed
I love the look of this shirt and the pockets. The material is a bit stiff though. Alls I ever wanted was a denim shirt with pockets to wear over EVERYONE. Unfortunately for me the medium and the large wouldn't cover my ample bosom, and the XL is out of stock. I will wait and buy it again and hope the next batch is softer
Classic Staple for Any Wardrobe
Wool& has really shifted my clothing mindset. Instead of focusing on tons of individual outfits, I am now focused on a few quality, classic pieces that can be used to make a variety of ensembles. And that is exactly why I purchased the Florence. It is the perfect staple to complete most outfits. I love the cut and color of this piece. It is comfortable and quality. And it has pockets! I wish it came with a belt, like the Laurel. But I can work with belts I already own. My only complaint is that the arms are about four inches too short. But I'm okay with that because the sleeves look great rolled. I am excited to begin working this piece into my everyday wardrobe!
see it styled by our community
Share your photo here or tag us on Instagram @wool.and to be featured.
wearing merino comes with advantages