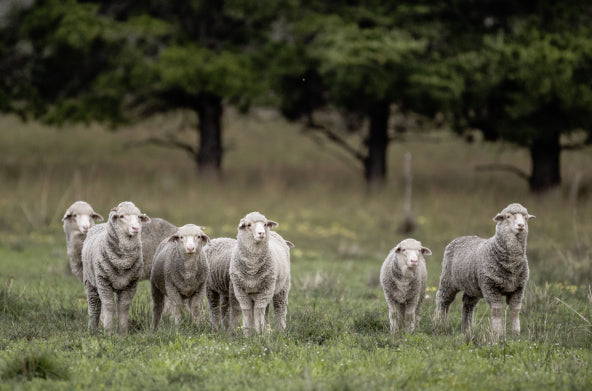 about our wool
We source Woolmark® certified merino directly from the McBride family farm located on the coastline of SE Australia.

As a family-run organization, the McBrides are creating a sustainable company for generations to come. The farm is specifically focused on improving energy efficiencies, land conservation, and biodiversity.
midweight stretch jersey
A performance fabric that is breathable, dries quickly, and has plenty of stretch for full range of motion.

55% Ultrasoft Merino Wool
41% Elasterell-p
4% Spandex
285 GSM
18.9 Micron Wool
Love the weight, the waist band comfort and especially the size of the pockets. I also appreciate that the blend is less of a dog fur magnet compared to other brands.
Love these leggings!
I have the summit shorts and really love them, especially for working out and wearing under dresses. I thought I'd love these leggings, and I do. (The straight leg version seemed to be tighter - looked great but not as comfortable.) I got these specifically for hanging around the house in the winter and for my travel capsule. I know I can wear them awhile without having to wash them them and they go with so much. I live in a hot climate (Fort Worth) and can't wait for it to be cool enough to wear them. This midweight will be worn quite a bit - I don't think we're cold enough very often to go heavy weight. They will go great with my boots! All of them. Thanks again, wool&.
Would buy them again
Great fit and feel. Just the right mid weight. Love the pockets!
Awesome leggings. I love them!
not good
It pains me to write a poor review for wool& as I have many pieces and love everything they're about but the thinning on these leggings are unacceptable. I've had my summit leggings for less than a year and they are almost unwearable. See pictures for comparison to my axis leggings I bought around the same time. Did I get a bad batch?? : / Will not be spending $100 plus dollars for leggings that last less than a year.
We are so sorry to see this. This should not be occurring with our items. We'd love it if you reached out to help@wooland.com as we'd love to help make it right for you!
see it styled by our community
Share your photo here or tag us on Instagram @wool.and to be featured.
wearing merino comes with advantages