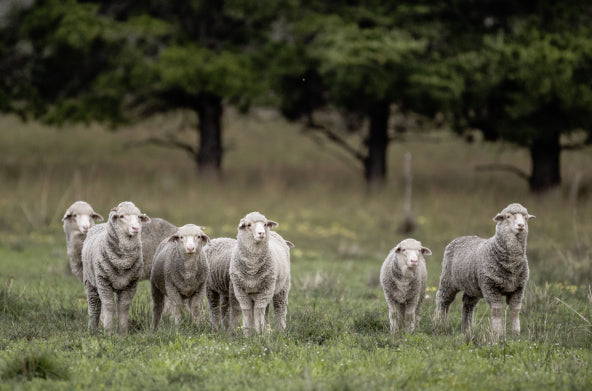 about our wool
We source Woolmark® certified merino directly from the McBride family farm located on the coastline of SE Australia.

As a family-run organization, the McBrides are creating a sustainable company for generations to come. The farm is specifically focused on improving energy efficiencies, land conservation, and biodiversity.
lightweight stretch jersey
A lightweight fabric with just the right amount of stretch, intended to be worn as an underlayer.

68% Ultrasoft Merino Wool
25% Nylon
7% Spandex
180 GSM
17.5 Micron

I've only had this slip a couple of weeks and we're already great friends. I ordered a medium first, returned for a small. Small fits perfectly and I plan to wear as a dress in the summer.
Measurements 35, 30, 37 height 5' 3"
Cosy!
The best thing for me about the cami slip is the coverage or "smoothing" of bumps, lumps and lines - especially when paired with dresses in the lighter weight fabrics. I feel more confident and comfortable in these dresses with the cami slip.
For those of us in the colder climates - the cami is a great addition. The cami slip will give more wear time throughout the year for the lighter jersey fabrics, they feel so cosy with the added layer.
Love it!
I have been waiting for them cami dress for forever. I just haven't found other dress styles that I am in love with on the website. I love how it fits. The length is also great. I bought the black and I am considering the other colour, even though it looks a bit on the peachy side instead of rose. I have 1 other Wool& dress and it's an XS. They run big, the XS is perfect
My new favorite Wool& piece!
Oh. My. Gosh. ⭐️⭐️⭐️⭐️⭐️
The reviews I've read are 100% spot on… ♥️ This Roam slip /dress is unbelievable. Soft, stretchy, cozy, and comfortable! I paired it here with a charcoal grey merino wool wrap and would totally wear this with a pair of black boots or strappy sandals out in public. I purchased an XS which is *perfect* on top where I'm smallest, and clingy but forgiving on the bottom. (125 pounds 5 feet 5 inches 32 c bra)
I honestly don't want to take Roam off and would love to see it offered in more colors- especially my favorites-marine blue and marionberry!
Wool& knocked it out of the park with this one. I so wish they would consider allowing this to be a challenge dress as it's perfect for tropical travel!
Mostly great!
The Roam Cami Slip is a great mid-thigh length, and I enjoy the slim fit, light weight and warmth of the fabric. The top is a little large for me, but that's because I am very pear-shaped and sized up to have extra room in the hips. I really appreciate having adjustable shoulder straps on the slip, but I do wish Wool& had a more elegant design for it. The strap is very thick where the strap wraps through the hardware and makes obvious lumps on my back that show up under my dresses. There are other wool companies that handle strap details much better, so I hope that Wool& will adjust this issue in the future.
see it styled by our community
Share your photo here or tag us on Instagram @wool.and to be featured.
wearing merino comes with advantages